New Generation of Automotive
Automotive_Industry_News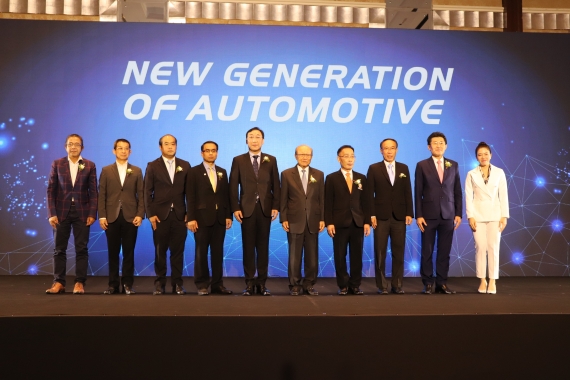 Mr. Pisit Rangsaritwutikul, President, Thailand Automotive Institute (TAI), was invited from Bangkok Biz Newspaper as one of speakers in this seminar along with representatives from both government and private sectors such as Mr. Chokedee Kaewsang, Deputy Secretary General, the Thailand Board of Investment (BOI), Mr. Sekson Sermpong, Deputy Governor (Planning and Power System Development), Provincial Electricity Authority (PEA), Mr. Pornsak Udomtraphayakun, Assistant Governor (Planning and Organization Development), Metropolitan Electricity Authority (MEA), Dr. Kraisorn Anchaleeworaphan, Director, Electrical and Electronic Product Testing Center (PTEC), National Science and Technology Development Agency (NSTDA) and Mr. Zhang Haibo, President, SAIC Motor-CP Co., Ltd. They shared and presented guideline and direction of future automotive industry development in both short and long terms which will lead Thailand to EV industry center in ASEAN as targeted at InterContinental Bangkok Hotel on August 27th, 2020.

Mr. Pisit said that TAI had boosted automotive industry development under a policy of MOI which extended scope of Thai Industrial Standards (TIS) testing in automotive and auto parts product in order to support automobile in the future; for instance, collaboration with Thai Industrial Standards Institute (TISI), MOI, for drafting standard of electric cycle rickshaw (electric Tuk Tuk), developing testing center to support emission testing according to standards of Euro 5 and 6 and the progress of building EV Battery Testing Center at Automotive and Tyre Testing, Research and Innovation Center (ATTRIC), Amphoe Sanam Chai Khet, Chachoengsao. It was accelerated to finish after facing epidemic of COVID-19. It was expected to be opened in November 2020 and would be ready to provide 5-standard test within the same year and all 9-UNECE R100 standard test in 2021. Additionally, TAI had developed training course for human resource development in order to support EV in the future.

Mr. Chokedee said that automotive industry standard promotion measure covered all; including, automotive, auto parts and battery productions. BOI launched investment promotion for all type of EVs with deadline of application; for instance, 2018 and 2019 were deadlines for hybrid and EV public transportation vehicle, respectively. Throughout 3 years, there were 16 companies that received this promotion for total 26 projects with total production capacity at 560,000 units. This was over expectation. Applicants were companies from Japan and countries in EU excepted Ford from the US. This was because the US started to withdraw investment from ASIA. In this regard, the next BOI committee meeting would encourage the improvement of EV investment promotion measure to include electric passenger vehicle, electric motorcycle, electric Tuk Tuk and electric public vehicle because they still needed investment and there were high demands from domestic market.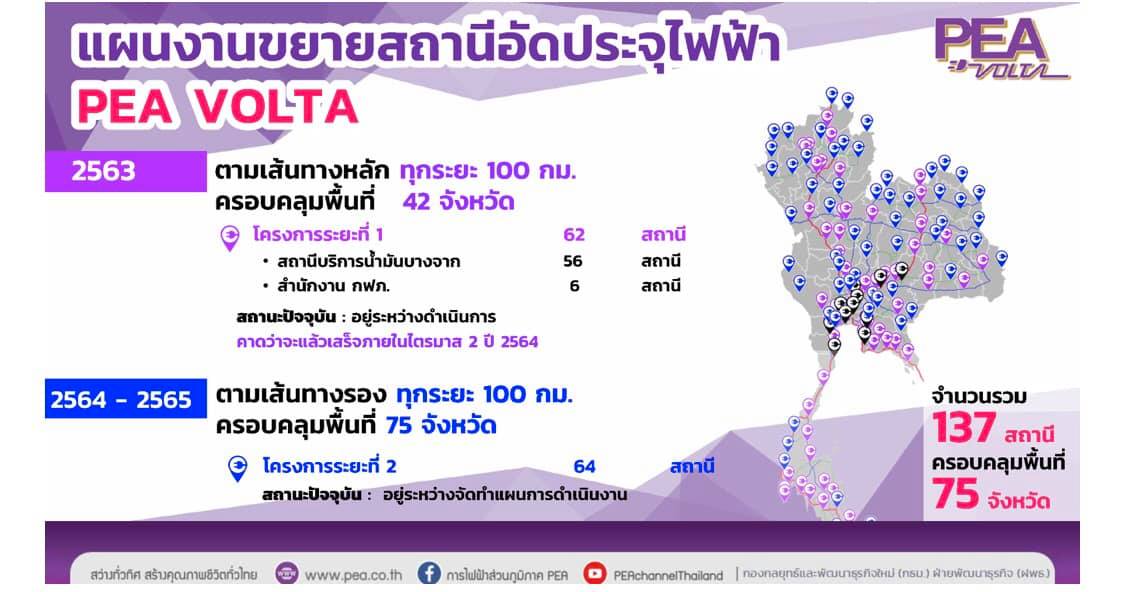 Mr. Sekson said that PEA installed 11 charging stations throughout Bangkok and Pattaya which had operated for over 2 years. This year, PEA planned to install it on 62 locations covered 42 provinces under collaboration with Bangchak Corporation Public Company Limited. Each station would be installed in Bangchak gas station which each of them was located 100 kilometers apart from each other. This was formerly planned to complete within Q3/2020 but it was postponed because of pandemic of COVID-19 and slow bidding process. Thus, the installation would be completed in Q2/2021. During 2021-2022, the charging station would be installed in 64 locations of total 75 provinces. Each station would be 100 kilometers apart from each other along minor road or there were 137 charging stations within 2022 with 2.5 MTHB/station for investment.
Formerly, PEA had a testing plan for collecting service charge through 11 charging stations during the beginning of 2020 but had to postpose because of pandemic of COVID-19. Thus, the service charge would be applied on this September. The charging rate of private charging station in case of low priority was 2.63 THB/unit. Charging rate of PEA charging station for DC and AC chargers during peak period was 7.5798 THB/unit and 4.7972 THB/unit; respectively, during off-peak period. These rates were competitive compared to internal combustion engine (ICE) vehicle and vehicle driven by IPG or NGV. 2.5 MTHB was investment amount for 1 charging station with 2 plugs.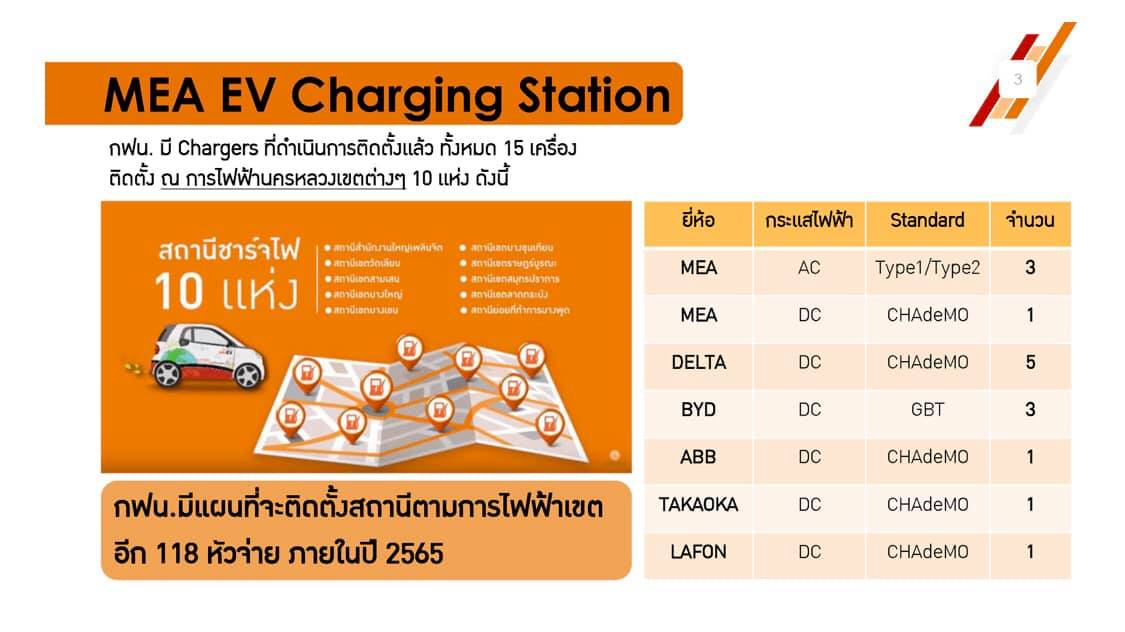 Mr. Pornsak said that MEA was ready to support using EV in 3 provinces of metropolitan area: Bangkok, Nonthaburi and Samutprakarn. MEA started using 15 units of EV and would increase to 49 units or 60 units as total within the end of this year which would reduce quantity of PM 25. 15 charging stations had been installed at MEA and 118 units would be installed within 2022 both at MEA offices and other areas such as the government complex and 7-11 areas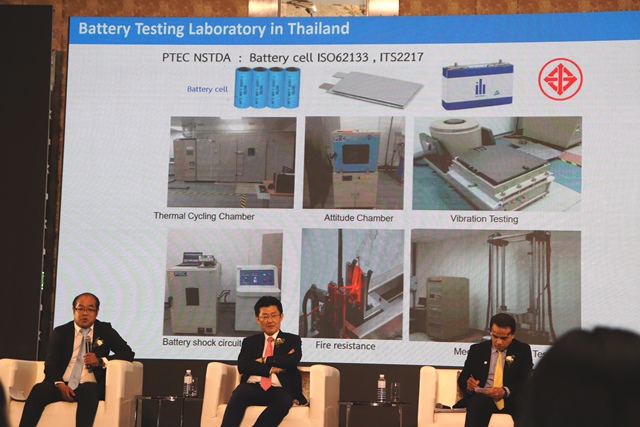 Dr. Kraisorn said that NSTDA had focused on research and development in EV, EV battery, charging station and connection technology to vehicle in the future (5G) or autonomous driven to promote safety standard and support the next generation vehicle by collaboration with both government and private sectors such as TISI, MOI, Department of Land Transport (DLT), PEA, MEA, Ministry of Energy (MOE), Bangkok Mass Transit Authority (BMTA) and the Office of Transport and Traffic Policy and Planning (OTP).

Source: Krungthepturakit & Thailand Automotive Institute
News more