Thailand's EV Roadmap
Automotive_Industry_News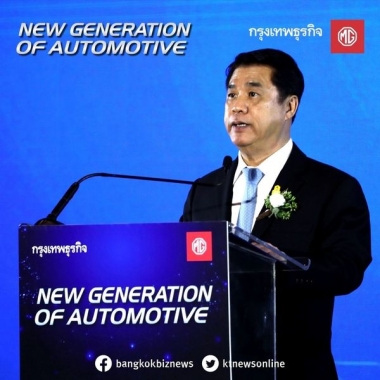 Mr. Suriya Juangroongruangkit, Minister, Ministry of Industry (MOI), presided over a seminar of New Generation of Automotive and delivered keynote on the topic of "Driven to EV with Thai Road Map to support EV". Automotive industry development has been advanced to environment-friendly engine and autonomous vehicle.

For Thailand, the government and MOI have Electric Vehicle (EV) industry supporting policy. In 2019, Thailand was ranked the 12th in the world automotive production number and it is the S-curve industry; therefore, MOI has a supporting policy for domestic EV and parts production. The government appointed a National EV Policy Committee and integrated collaboration among related agencies such as boosting domestic market, promoting investment, setting EV standards, used battery management, supporting charging station and such like.
The 1st meeting of committee agreed on road map. In 2030, EV production will take 30% of total automotive production in Thailand. There are 3 stages as follows:
- Short term (2020-2022) : produces 60,000-110,000 units for government used vehicle, public transportation vehicle and public transport motorcycle
- Middle term (2021-2025) : drives production of Eco EV for 100,000-250,000 units and Smart City Bus for 1,000-3,000 units
- Long term (2026-2030) : increases production number of Eco EV to support Zero Emission and Sharing Mobility as well as sets a target of EV production for 30% of 2.5 million production units

Mr. Suriya stated, "I am confident that Thailand has readiness for being EV production base in this region because Thailand provides privileges on investment and infrastructure which support the growth of Thai economic industry and advancement of economy.
Source: Krungthepturakit

News more