Automakers help restart US industry as globe reopens further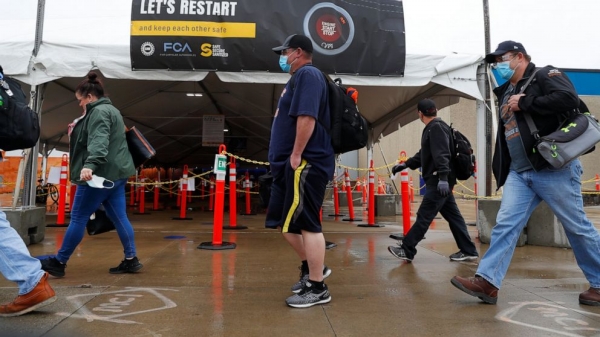 Automakers help restart US industry as globe reopens further

More than 130,000 autoworkers have returned to factories across the U.S. in one of the biggest steps yet to restart American industry
More than 130,000 autoworkers returned to factories across the U.S. for the first time in nearly two months Monday in one of the biggest steps yet to restart American industry, while an experimental vaccine against the coronavirus yielded encouraging results in a small and extremely early test.
Stocks rallied on the vaccine news and signs that the worst of the crisis has passed in many countries. The Dow Jones Industrial Average soared about 900 points, or nearly 4%.
In a surprise announcement, President Donald Trump said he's been taking a malaria drug to protect against the virus even though his own administration has warned it should only be administered in a hospital or research setting because of potentially fatal side effects.
Automakers from Detroit's Big Three — Fiat Chrysler, General Motors and Ford — to Honda and Toyota put screening procedures in place at the dozens of factories that reopened from the Great Lakes states south to Tennessee and Texas and out west to Tesla's factory near the San Francisco Bay. Some Detroit automakers started cranking out vehicles Monday, but it will take longer to fully restart other plants. Workers appeared reassured by the precautions.
At a Fiat Chrysler pickup truck assembly plant in Warren, outside Detroit, workers entered a giant white tent with a sign reading, "Let's restart and keep each other safe." They had their temperatures checked and answered questions on whether they had COVID-19 symptoms."I feel safer than being anywhere at any stores, because they got the screening and everything," said Ann'alazia Moore, a janitor at the factory. "I feel like that's amazing. That's smart. I like that. So, I feel more safe. I won't get sick."
Cole Stevenson, who installs steering wheels at a Ford pickup truck plant in Dearborn, Michigan, said, "The parts of the plant where people would be closer together, they've put up a lot of partitions. You can tell they've taken tape measures to just about any surface two people would need to be near each other."
Read More: https://abcnews.go.com/
News more