Organizational Communication with HOU REN SO
Articles_News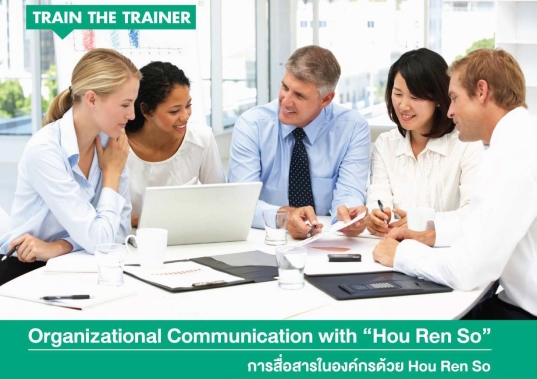 When referring to communication, people may think about talking on the phone with someone or sending a message, data or picture to others via other communication devices. These are only partial meanings of communication.

These are included in internal communication and using language is the most significant part of it. There are 2 types which are verbal and body languages, but before moving forward, we initially need to know the target of communication.

Why do we initially need to consider the target of communication?

This is because setting the target of communication will determine following factors:
1. Content of what we want to communicate
2. Communication channel
3. Tool/Device of what supports this communication
4. Atmosphere and environment of communication of both sender and receiver
5. Response and feedback of data as targeted

A reason to set clear the target of communication is to assist sender as not to miss the point and lead to successful communication. Another point of concern for setting the target is to choose the right communication channel to aid in accomplishment.

Many organizations face work problems from miscommunication; including, inadequate communication during work and when giving orders. Superior usually thinks that "his subordinate should know and understand his order" or "his subordinate should understand this because he has worked and experienced this for a long time". Superior ignores to make sure if his subordinate understands what he wants. These cause problems and wasted product or mismatched production from the order.

Type of communication
1. Top to Down Communication: For example, policy, order, regulation or suggestion from management. This is the communication from high to lower levels or from superior to subordinate. The objective is to deliver or pass on data or assign job to subordinate.
If unclear communication is sent to lower level, rumor, gossip or word of mouth will occur.

2. Bottom up Communication: This includes opinion, recommendation or request from employee and suggestion for work improvement. This is communication from employee to management such as asking for advice, reporting result to management, etc. This is quite brief and rarely occurs because employee fears to reach management and is afraid that management will see him with inability and not as a capable employee or give him a negative feedback. He might communicate with the management, but merely good information to please them.

This type of communication is important because it allows human resources to participate and bond with organization, increasingly.

3. Horizontal Communication: This occurs among employees in the same level to share data, have consultation, provide news and give opinion for working together. It builds good relationship and cordiality among them which helps to better coordination and reduce time consumption in communication among line operations. Moreover, it is a channel for innovation because they share data among one another and see more opportunities.

4. Diagonal Communication: This is cross-department or cross-level communication. One delivers an important main issue to the other, which one needs to know or they consult among themselves together. In fact, this type of communication is all of the above; Top to Down, Bottom up, Horizontal or even cross-level.

HOU REN SO is a Japanese type of communication. Once, you have learnt and understand it, it will help you for your work and you will be able to use all types of communication.

Hou Ren So is used in working system of the Japanese, in which they feel attached to this word and stand for it through the rest of their lives. Superior usually sees worker without hou ren so as one not working well.

Hou Ren So in Japanese means spinach, while among Japanese, Hou Ren So in work is referred to as the key in working. It is the first syllable of 3 words.
1. It reads "Hou Ko Ku" which means report things that already have been done.
2. It reads "Ren Ra Ku" which means continued communication.
3. It reads "So Dun" which means consultation in case of having problem.
Houkoku is report or notification which means no matter what you do, your job is or assignment you receive, you must report your progress to your superior, periodically, whether you finish it in time with any reason.

"Insisting to having report no matter it is only a small detail". If subordinate reports to superior, but there is no action for assignment or decision making from superior, superior will take responsibility. If the report is not ready in time, superior also takes responsibility. This is because the working result or mistake of subordinate is the superior's, as well. Good superior must take accountability and should not blame or deviate this responsibility.

On the other hand, pleasant subordinate has to report to his superior; promptly, with latest information. This is also a practice for himself prior to moving forward to higher position. Report does not need to wait for official meeting or neat typing. jotting, e-mail, line application or telephone can be used as tools for report. No need to waste time by writing report or displaying it on board.

Renraku means continued communication or communication in workplace. You need to report and coordinate with others. This means you have to report to your superior and coordinate with all relevant departments to get the job done, successfully.

- Report all progress to superior for acknowledgement without waiting until his request
- Report for new information or additional news, immediately
- In case of important issue, report should be done directly (not by phone); otherwise, if either you or superior is not in the office, short report on the phone is accepted before further report in more details when either one is back in the office.

Sodan means consultation. In case of having doubt or problem in work, consultation is needed. Your superior will like if you ask him for suggestion when you face any obstacle. The Japanese working principle is no matter how hard each work is, you have to "try it first" before you say "I can't do it". If you still face a problem or obstacle, you have to ask for advice from your colleague, superior or higher one because you may get a better idea from their advice which helps you to solve that problem. If superior makes decision; after having consultation, and causes a problem, you will not be the one who takes all responsibility.

Consultation Approach
- Make an appointment with your superior before consultation is recommended
- Begin with main point you need to consult
- Do not closure mistake you have made. You have to reveal it
- Without having consultation or asking, this may cause more problems. Thus, having consultation should be immediately done once problem or mistake occurs
- If problem is personal matter, consultation with your superior should be done during off duty and you should make an appointment with him in advance
For the worst case of having difficulty or problem, "Try to solve problem by yourself" or "You think it is not your responsibility", all you need to do is having consultation with your superior.

Those are all about internal communication in organization. Ignorance and negligence for problem may cause more problems; therefore, we need to pay attention and become aware of communication. You shouldn't just assume it but base on the truth. Especially, the report (Hou Ren So), if you are assigned to do a job before getting off and the next morning you meet your superior, will you able to report your progress? and how? Many may think that what they will report about because the assignment is sent to you in the short notice and the job is almost finished. Yet, you still don't have anything to report. You must reassess it, wisely. Your report can be "Sir, after you assigned me to do this job in the late afternoon yesterday, I devided it into small jobs and assigned to each one of those skill staffs in order to finish this job in time".

After reading this article, I hope that your colleague and you will have more communications, systematically, to prevent the occurrence of any problem and create quality product, reduce waste, control cost, as well as eliminate MURI-MURA-MUDA which lead to strengthened and valuable human resources of organization onwards.
By Mr. Sekpornsawan Boonpetch
Expert trainers and consultants for Business Development
and Human Resource Development
News more