Yamaha fights for pole position in Philippine motorcycle market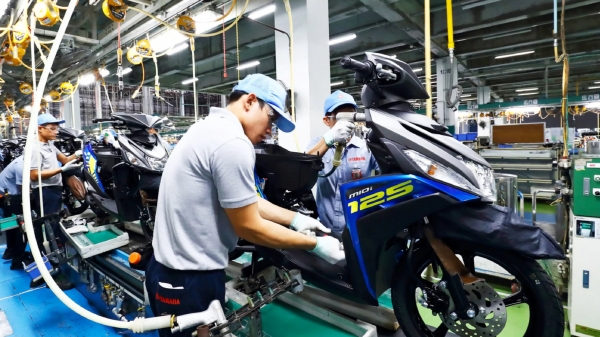 TOKYO -- A little more than 10 years after entering the Philippine motorcycle market, Japan's Yamaha Motor is closing in on compatriot and local market leader Honda Motor .
Yamaha's motorcycle sales in the country rose for the sixth straight year in 2018, surging 31.7% from a year earlier to 539,000 units, driven by scooters targeting younger motorists. The nation's overall motorbike market expanded 14% in the same year.
Yamaha commanded a 34.3% share of the Philippine market in April 2019, compared with Honda's 37.2%. The company feels it now has a chance to best its long-standing rival, and is investing about 3.1 billion yen ($28.7 million) on a new building at its motorcycle plant in Batangas Province just south of Manila.
Already under construction, the building is scheduled to go online in July 2020, doubling Yamaha's Philippine production capacity to 800,000 units annually.
The new facility will turn out Yamaha's flagship automatic transmission-equipped Mio scooter. Local content ratio for the bike will also be increased to about 30% by 2021 from 6%, making it more cost competitive.
Yamaha plans to raise annual motorcycle production capacity in the Philippines to 1 million vehicles, and is also poised to step up efforts to expand its overall presence in Asia.
Source: https://asia.nikkei.com/Business/Business-trends/Yamaha-fights-for-pole-position-in-Philippine-motorcycle-market

News more