Mercedes-Benz exploring incentives for battery EVs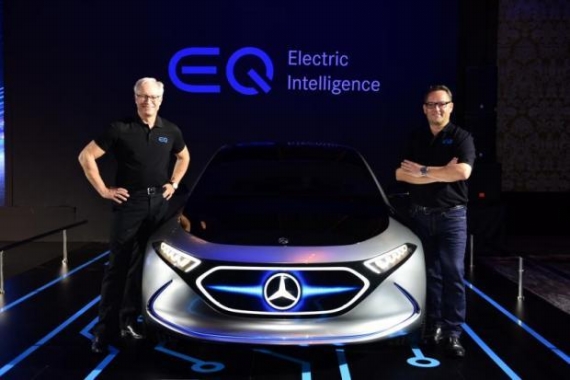 Mercedes-Benz Thailand is studying the possibility of applying for Board of Investment (BoI) incentives for battery electric vehicles after winning privileges for two related projects, plug-in hybrid EVs and lithium-ion batteries.
The application period for battery EVs ends on Dec 28. Mercedes-Benz makes plug-in hybrid EVs and internal combustion engine (ICE) cars in Thailand.
Roland Folger, the recently appointed president and chief executive of the local unit, said the company has yet to submit an application but is considering the battery EV scheme.
He said Thailand is a rapidly growing market, spearheaded by the company's production of EV cars here.
"The government's policy is crucial to beef up the population of EV cars here, as well as educating Thai motorists about EV mobility," Mr Folger said. "We are committing to market both plug-in hybrid and battery EVs and diversifying all models to balance with ICE cars for local customer choices."
Mercedes-Benz applied to assemble plug-in hybrid EVs worth 607 million baht and lithium-ion batteries worth 600 million baht. The BoI approved the requests on March 27.
Mercedes-Benz has teamed up with a local partner, Thonburi Automotive Assembly Plant (TAAP), an assembler of Mercedes-Benz models in Samut Prakan.
For the battery plant, TAAP established Thonburi Energy Storage Manufacturing Co to run the facility, which is scheduled to start operations in early 2019.
Mr Folger said the adoption of battery EVs has to come with appropriate state policies and market demand.
"It's not necessary that the government invest in all charging stations nationwide or offer a cash subsidy for buyers," he said, noting that a scheme with an expiry date would not be a sustainable policy.
At present, 40-50% of Mercedes-Benz sales in Thailand are for the plug-in hybrid version.
Source : Bangkok Post
https://www.bangkokpost.com/auto/news/1580666/mercedes-benz-exploring-incentives-for-battery-evs

News more