Big bike – the New Stardom of Thailand Automotive Industry
Articles_News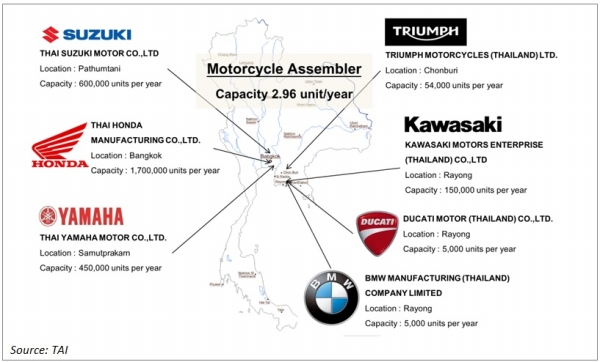 By Ms. Thitipat Dokmaithet
Specialist – Industrial Research Division
1. Introduction
It is recognized that transportation causes economic activity and it can be any method such as by public transportation system or personal vehicle. Some developing countries with inadequate transportation and low income per head, most of their people prefer to use their own vehicles. Thus, motorcycle is their choice that they can afford as the price of a motorcycle is only 1/10 of car price. On the other hand, in developed countries such as in the US or EU, most people prefer driving a car to riding a motorcycle, yet some needs motorcycle for leisure and seeking for new experience. This motorcycle is big bike that has high capacity of cylinder with remarkable design and expensive. Some of them are limited production. It differs from consumers in developing countries who ride small or medium size motorcycles with lower capacity of cylinder
Nonetheless, as changing of the nature of society and environment in developing countries, this impacts to the motorcycle sale by the need of car for more leisure; other than transportation only, from higher income consumer. Additionally, the pollution problem in big city, many countries pass laws of motorcycle limitation in their city areas such as in China and Indonesia. As a result, it seems that the small motorcycle sale is saturated while the selling of big bike is growing instead.
Thailand is a country with large number of motorcycle that has been used, considerably. We are also a major manufacturing base in the world. The current condition of Thailand motorcycle industry is not differ from the world small motorcycle market for transportation which is saturated whereas the selling of big bike for leisure is expanding; therefore, Thailand motorcycle manufacturing industry is stepping towards the change which is both opportunity and challenge for domestic manufacturer to be ready and prepared.
2. Motorcycle Manufacturing Industry in Thailand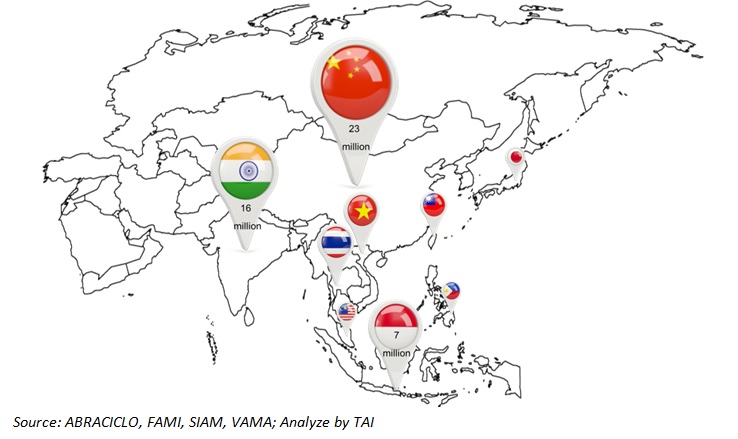 Thailand is a major motorcycle manufacturing base in the world. In 2013, Thailand is ranked in the 5th of motorcycle production in the world with 2 million units, after China (23 million units), India (16 million units), Indonesia (7 million units) and Vietnam (3 million units).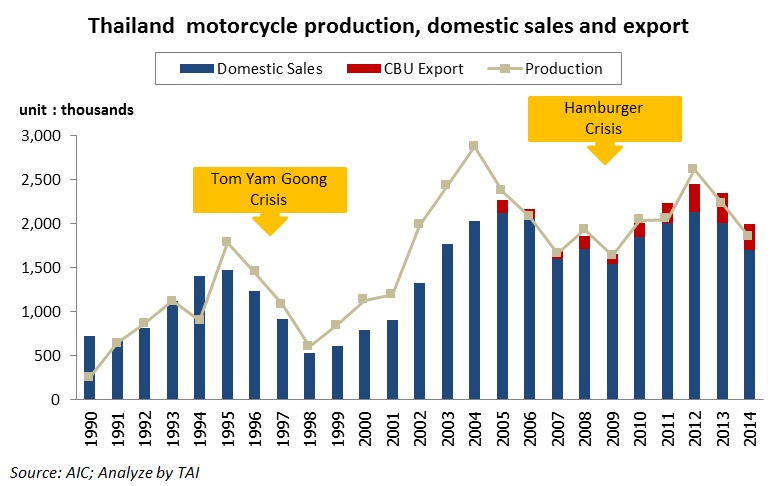 Thailand started the 1st motorcycle manufacturing in 1967. Initially, it imported CKD for production instead of importing motorcycle. Then, it started to promote domestic production by specification of Local content to protect Thai industry.
At the beginning decade of 1990, Thailand promoted the investment of four-stroke engine motorcycle instead of the two-stroke one to reduce emission problem. During this time, Thailand motorcycle manufacturing had grown, continuously. As in 1995, Thailand highest production was 1.78 million units with 90% of maximum capacity.
Until, the economy crisis in 1997, motorcycle production was decreased, enormously, from 1 million units per year to only 0.5 million units. In 1998, there was the shrinking in domestic market; therefore, motorcycle production in Thailand had to focus on more export market. Thus, in 1997, it was the initial year that Thailand exported motorcycle. After that, the domestic sale was recovered, consecutively.
For production, Thailand obligates Free Trade Agreement (FTA) which is caused the cancellation of industrial protection measure. As a result, manufacturer has to make adjustment and expand manufacturing collaboration with domestic parts manufacturer. There is passing on the technology which strengthens Thailand motorcycle production and has become the major manufacturing base of this region until present.
However, the Thailand motorcycle production structure is going to change from producing small motorcycle (Moped, Family) to large one (Sport, Big bike) production due to revenue and demand changing of domestic market. Moreover, some Thailand's business partners that imports Moped bike from us, such as Vietnam, are able to make their own production. Moreover, large motorcycle manufacturers confront the higher cost of production and are seeking for new manufacturing base with lower cost.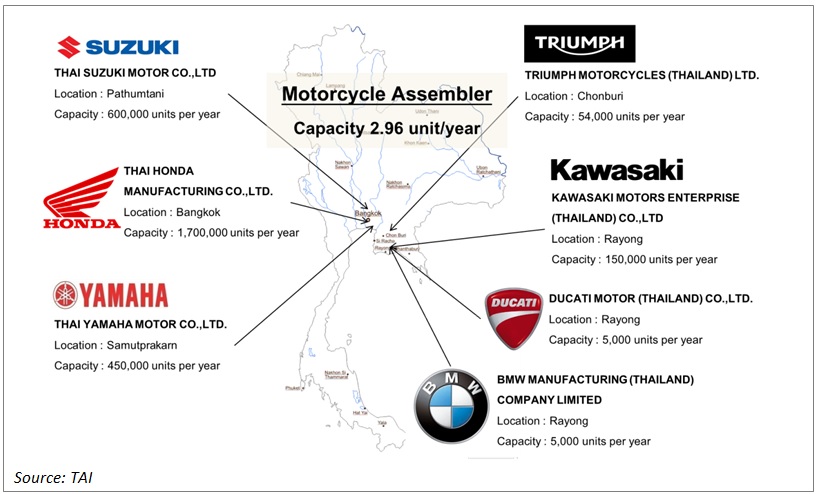 Thailand has adequate infrastructure and strength of domestic parts manufacturers because it has been motorcycle manufacturing base in this region for a long time. As a consequence, many leading motorcycle manufacturers select Thailand as their production and export bases, as well.
Nowadays, there are 7 motorcycle manufacturers in Thailand with total capacity of production at 3 million units per year. Most are located in the Central and East regions because they are clusters of manufacturer as well as near to the seaport for export those CBUs.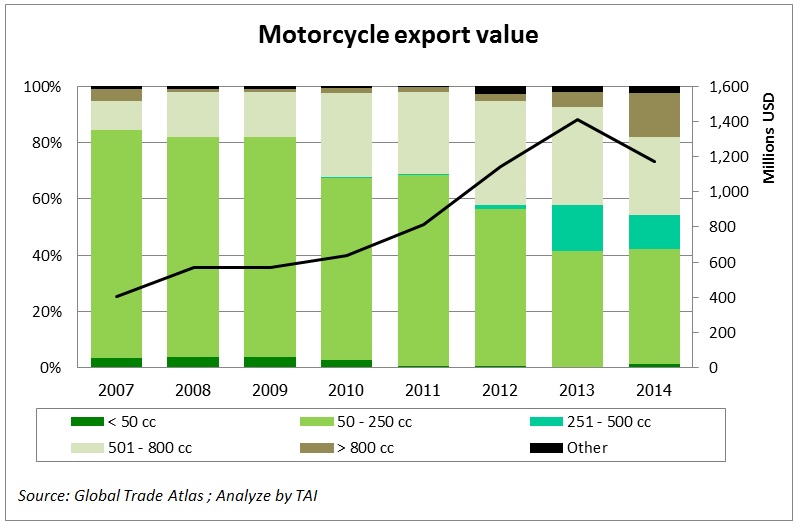 In 2012, the Board of Investment of Thailand (BOI) declared to promote the big bike (244 cc and up) production. For the engine part production, there were import tax exempts for machine and also 8 years for corporate income tax. After that, the export value of motorcycle with capacity more than 250 cc increased, significantly; especially, 251-500 cc. It was increased from 19.89 MUSD in 2012 to 231.15 MUSD in 2013 or more than 12 times. Thus, the proportion of big bike export was increased from 42% to 60%, yearly.
Another reason of expanding the proportion of big bike export is the decreasing number of import in small motorcycle (less than 250 cc) from trade partner countries of Thailand such as the US, Italy and Vietnam. Apparently, Vietnam has her owns plant which is not only produces for domestic sale but also for exporting to the country that used to be Thailand's trade partner as Italy.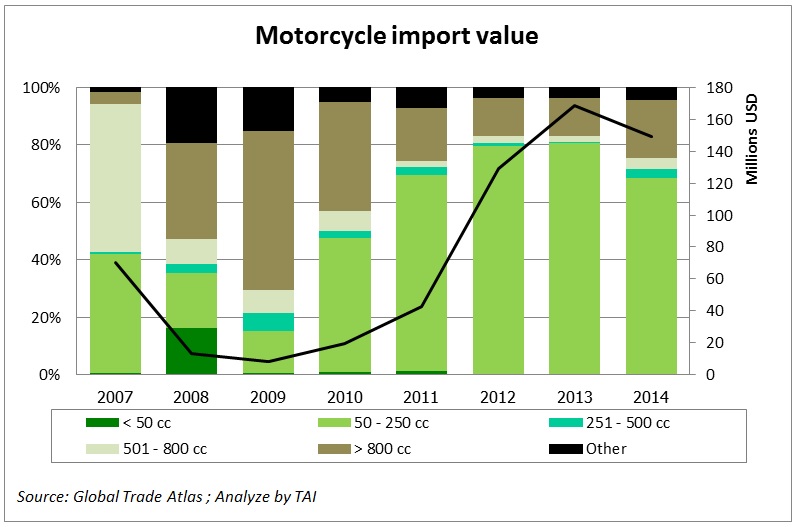 On the other hand, the number of export in motorcycle with capacity 50-250 cc was decreased while the number of import in this segment was increased; especially, in 2012. The import value was 102.45 MUSD or increasing 3.5 times from 2011 which had value at 29.24 MUSD. The major markets were Vietnam and Indonesia with proportion at 54% and 19%, respectively.
From above export and import data, it indicates that the direction of Thailand motorcycle production is leading to big bike production.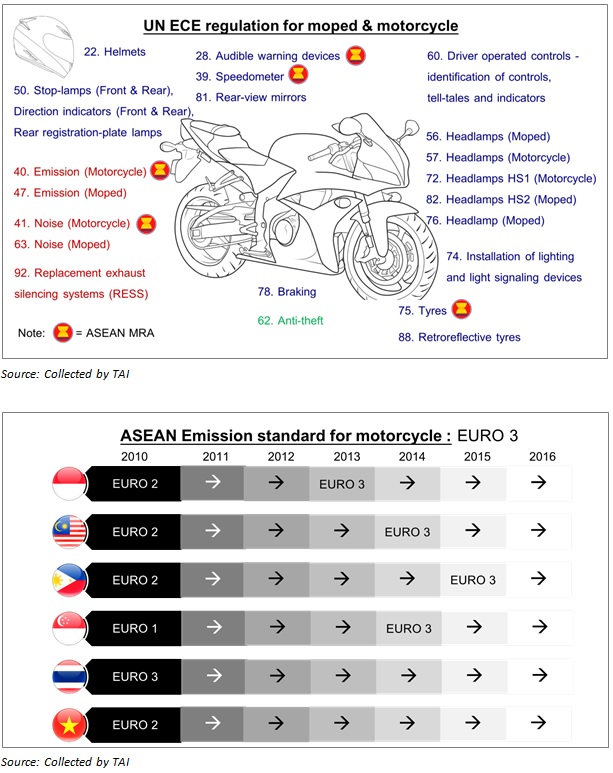 For export regulations, it shows that there is less tax policy for the international trade because many countries have more discussion in FTA; especially, in the major scope of trading such as ASEAN and ASEAN plus, but with more rigidity in measure or Non Tariff Measures (NTMs).
The NTMs of automotive products are measures in safety and environment. The recognized standard of safety and environment is UNECE which has 21 specifications related to motorcycle. At present (2015), member countries of ASEAN have gathered it as MRA in 5 items that have both safety and environment standards: Emission (R40), Noise (R41), Audible warning devices (R28), Speedometer (R39) and Tyres (R75). In the future, it is expected to apply all standards in order to enhance motorcycle production in this region and be accepted in the world market.
This environment or emission standard of motorcycle in all countries in ASEAN, except Cambodia, Laos, Myanmar and Vietnam (CLMV), is used and they apply emission standard or EURO 3 which Thailand is the 1st country in ASEAN to use it.
3. Opportunity and Challenge of Thailand Motorcycle Industry
Thailand still has an advantage in the manufacturing base of big bike when compares with other countries in this region along with other supporting factors in both of demand and supply. Many developing countries have increasing in income per head and this is a chance for the market of big bike. Furthermore, economies of many developed countries are in the stage of recovery which causes more demands in luxury product such as big bike. Thailand also has adequate infrastructure for production and strength in Supply chain because Thailand has been the major manufacturing base of production for a long period of time with lower cost; compared with countries in Europe and the US.
Nevertheless, there are some challenges that manufacturer needs to be prepared since consumer requires motorcycle with more safety along with capacity as well as there are more environmental oriented. As a consequence, there are rigid environment measures such as emission and noise pollutions. Thus, manufacture has to response the demand of market and prepares for R&D together with improving the production for increasing in Productivity and maintains competitiveness.
----------------------------------------------------------------------------------------------------
Motorcycle is categorized based on 2 major criteria: capacity of the engine and form of motorcycle as following as

1. Categorized by form: Based on the definition of UN/ECE, there are 3 types of motorcycle

1.1 Moped It is in the category of L1e which is 2-wheel vehicle with capacity not over 50 cc and maximum speed not over 50 kms/hr. It looks similar to bicycle with motor.
1.2 Scooter This is categorized in L3e. The 2-wheel vehicle with cylinder capacity over 50 cc. and maximum speed over 50 kms/hr. There is a large wind-screen and fuel tank under seat. It is designed for comfortable seat. Riders can rest their feet. There are footrests. The hand controls are in the high position away from each other for better low speed controlling. The engine is designed for torsion in low rpm and unable to make very high speed. It is for general use purpose. Family member can drive. It is good for short driving range not over 100 kms.
1.3 Motorcycle It is in the L3e. The 2-wheel vehicle with capacity of cylinder over 50 cc and maximum speed over 50 kms/hr. Fuel tank is in the middle of seat. Rider needs to cross his leg over the tank for seated. Most are large vehicle and cylinder. There are sub-categories by purpose of use as
1.3.1 Cruiser/Custom (Chopper/Bobber) It is a custom made. The engine is designed for low rpm and not high speed. It is for leisure ride with group. It is comfortable to ride. Seat is at the low position and control handle is at the higher position. Both feet have to straight ahead. Gear lever and brake are at high level for feet to be placed on.
1.3.2. Sport/Performance It is similar to racing bike. It is streamline designed for higher speed. The control handle is at the low position and far from the seat. Rider needs to crouch all the time. It is not for long driving range. It is a light weight vehicle for better speed. Engine is designed for torque and horsepower in high rpm.
1.3.3. Touring It is designed for long ride range. It is a large vehicle and heavy with large engine and seat. It is designed for comfortable riding and seating. It is equipped with handling equipment and other facilities for travelling. It is not emphasized in high speed and speeding but in high torque with low rpm. This is for comfortable ride and rider does not need to switch the gear as sport type.
2. Categorized by engine size: Based on HS Code, it can classified motorcycle in 4 types
2.1 Lightweight in the tariff 871110 and 871120 means motorcycle with capacity of cylinder at 50-250 cc
2.2 Middleweight in the tariff 871130 and 871120 means motorcycle with capacity of cylinder at 251-500 cc
2.3 Heavyweight in the tariff 871140 means motorcycle with capacity of cylinder at 501-800 cc
2.4 Super Heavyweight in the tariff 871150 means motorcycle with capacity of cylinder more than 800 cc
News more