Thai Automotive and Auto-Parts Industry Transformation "Smart Mobility Driving Tomorrow's Society"
Automotive_Industry_News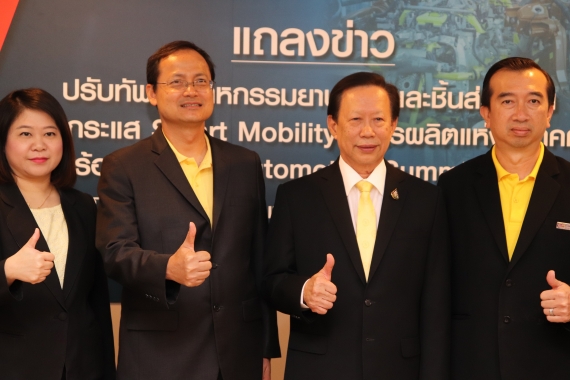 Automotive Summit 2019 Press Conference
• Thailand Automotive Institute (TAI) collaborated with Reed Tradex Co., Ltd. for Automotive Summit 2019 under the concept "Smart Mobility Driving Tomorrow's Society" held in Manufacturing Expo during 19-20 June 2019 at BITEC
• Meet the specialists from leading companies from Korea, Japan, Europe, ASEAN etc.
The automotive industry is considered as an important foundation for Thailand's economic development for more than 60 years. However, the emergence of new technologies causes intense competition in the industry. Coping with government policy that promotes 10 industry segments to be new engine of growth, of which modern or next generation automotive industry is included.
Next generation vehicle promotion policy is one of the elements determining commercial success of the automobile industry. Such policy not only creates a continual demand for manufacturers, but also increases quality of life in the society we live in, personal and property safety, as well as environmental friendliness. Thus, the advanced technology development of next generation automotive industry is the crucial factor of our industry to become Thailand 4.0.
The overall of current Thai automotive industry has started to improve since 2018, with production growth of 1.95 million units in 2017 to 2.16 million units in 2018 by divided into 1.05 million domestic sales and 1.1 million units exported. In 2019, the total production is expected to be close to the previous year, approximately 2.2 million units, which are divided into 1.1 million domestic sales and 1.1 million units of export volume as well. From January to April 2019, 711,700 units have already been produced, which is higher than 5.52% compared to the same period last year which domestic sold about 349,600 units, growing by 10.5%. For the past 4 months, the total of export volume was 367,000 units, down 0.25% compared to the same period last year due to the global economic recession, especially the export market to Australia had quite a lot of impact for the electric vehicle (xEV) market that has been growing continuously. In 2017 the total EV production was 8,900 units, increased to 25,200 units in 2018. In 2019 the production is expected to grow to 36,000 units, and in 2020 the EV production will be more than 50,000 units.
Transformation for Smart Mobility, many carmakers have been ready to produce electric vehicles to the market. Currently, 9 carmakers have been approved by Thailand Board of Investment (BOI) which are 4 carmakers for Hybrid (HEV) and 4 carmakers for Plug-in Hybrid (PHEV), and 1 carmaker for battery electric vehicles (BEV) with a total production capacity of approximately 500,000 units per year in total of investment value for 54,000 million baht.
Furthermore, 7 carmakers are waiting for BOI approval for BEV and 5 companies have been approved for electric vehicle batteries (EVB) which are expected to start production this year onwards. And more than 400 EV charging stations had been installed in 2018.
In addition to the transformation to Smart Mobility, from the engine to the electrical system, also interconnection with various things on the road, such as vehicle to vehicle (V2V), vehicles to pedestrian (V2P), vehicles to infrastructure (V2I) including automated driving systems. At present, many car brands have already use these advance technologies such as cruise control system, automatic braking system, intelligent remote control system etc. and currently have been sold to the market.
Transitional measures for the automotive industry, the important thing is to adjust in terms of production, for example, shared parts such as chassis, brakes, interior accessories, upholstery, accessories, etc. must have different specifications such as using lightweight materials in electric vehicles (EV) therefore auto parts manufacturers have to adjust for this change of production process and increase new parts production for EVs e.g. batteries, motors, battery management system (BMS), drive control unit (DCU), inverter etc. by improving the production process and bringing the benefits of advanced technology related to robotics and automation to production technology to increase productivity.
Mr. Adisak Rohitasune, Acting President of Thailand Automotive Institute said that Thai Industrial Standards Institute (TISI) has completed standardization plan related to modern vehicles such as standards for sockets, outlets, the standards which under preparation are charging stations and batteries, and other standards are under consideration to cover all modern vehicles. Moreover ASEAN's first Electric Vehicle Battery Testing Center which has been built in the same area of the Automotive and Tyre Testing Research Center (ATTRIC) at Sanam Chai Khet District Chachoengsao which will have a battery performance testing, battery safety testing and a safety testing room that can support the burning or the explosion of the battery from the test as well which is expected to start operation in 2020.
For human resources development, Thailand Automotive Institute has established EV Technology & Innovation Learning Center for the electric vehicle industry development to study and share information and modern vehicles knowledge such as batteries, motors, cooling systems lightweight materials for EV etc., and also publish knowledge sharing among automotive industry employees whatever battery, electric vehicles, entrepreneur development to increase production efficiency with various production management systems e.g. Lean Production System, Loss Reduction Process and adoption of advanced manufacturing technologies such as robotics and automation to strengthen production for entrepreneurs.
Mr. Suttisak Wilanan, Deputy Managing Director of Reed Tradex Co., Ltd. revealed that over 90% of Thai auto parts manufacturing technology trend is combustion engine parts production which is currently in transition to hybrid and modern vehicles and many carmakers are ready to change the car model according to this trend. In this regard, Thai entrepreneurs are constantly adjusting their machines and technology to support the production and the upcoming demands. The import of machinery and parts data in the first quarter (Jan-Apr) in 2018 is worth over 174,000 million baht, compared to 2019 it's worth 182,000 million baht, growing more than 5% by 3 main countries that have the highest machinery import value which are Japan, China and Germany, respectively.
Manufacturing Expo 2019 is machinery and technology exhibition for manufacturing and supporting industries which gathers more than 2,400 ASEAN brands from 46 countries for entrepreneurs to advance into the modern auto parts production, create a business network and meet with various auto parts manufacturers to get inspiration for further knowledge in various seminars.
Mr. Adisak Rohitasune said that Thailand Automotive Institute in collaboration with Reed Tradex Co., Ltd., has recognized the importance of this transformation for Smart Mobility by organizing "Automotive Summit 2019" under the concept "Smart Mobility Driving Tomorrow's Society" which delivers knowledge of global automobile technology and development trend, including regulations, standards, and testing and Dr. Pasu Loharjun, Permanent Secretary of Ministry of Industry will be the guest of honor at the opening ceremony along with a keynote address on "How next generation mobility will change the Thailand Automotive Industry?". Many of leading automotive and auto-parts operators and industrialists from many regions will gather in this event to perceive and share knowledge, information from policy authorities and technology specialists in order to build up network among executives, business leaders and manufacturers. The major topics of Automotive Summit 2019 would be state of the art in ACES (Autonomous, Connected, Electric, Shared) technology and its implemented cases in many countries such as Japan, Korea, Europe and ASEAN. In addition, update on testing technology and standards and regulations relating to ACES including industry movement as well. This event will be held on Wednesday 19th to Thursday 20th June, 2019 at 09.30 – 16.00 hrs. at Grand Hall 202-203, 2nd Floor, BITEC, Bangkok. This event is supported by our key sponsor ADT Systems (Asia Pacific) Co., Ltd. and many more that make it successful.

News more