U.S. auto sales seen rising 5% in August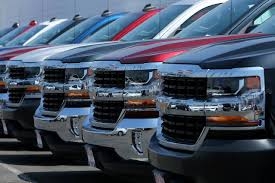 (Reuters) - U.S. auto sales are expected to rise 5% in August from the same period a year ago, driven by strong volumes due to higher manufacturer incentives and higher average sales prices, according to J.D. Power and LMC Automotive.
The consultancies see total U.S. vehicle sales of about 1.62 million units in the month, with retail sales of new vehicles expected to rise 5.8% to 1,404,500 units.
"Strong volumes coupled with higher average sales prices means that consumers will spend more purchasing new vehicles in August than any month in history," Thomas King, senior vice president of the data and analytics division at J.D. Power, said.
More: https://www.reuters.com/article/us-u-s-autos-outlook/u-s-auto-sales-seen-rising-5-in-august-j-d-power-lmc-automotive-idUSKCN1VJ1OS

News more